Quickly and effectively increase your home's market value with our tailored improvement services.
With COMPASS Concierge, we will recommend and front the cost of select services to revamp your property's appearance and enhance its desirability. This often means less time on the market, with an even higher return on sale.
No hidden fees or interest charged.
From deep-cleaning to cosmetic improvements, COMPASS Concierge will cover the upfront costs of select services and not collect payment until the sale of your home. By investing in your home's potential, we seek to leverage a more swift and lucrative sale.
The online application process is simple and is based in large part on the equity in your home. It is only a "soft" pull on your credit and does not affect the score.
---
We have helped our clients get $300,000 in home improvement money with zero fees.
A success story in Hamilton, Novato
Our seller client used Compass Concierge to fix up his home for sale. Concierge fronted the money for paint, carpet, light fixtures, landscaping and minor repairs. NO fees or interest!
We helped manage the improvements and provided professional staging as part of our service.
The home sold for an estimated $50,000 more than it would have without the upgrades!
Applying for approval is a simple online process and you find out in 5 minutes whether you are approved and for how much. Our client had the money in 2 days!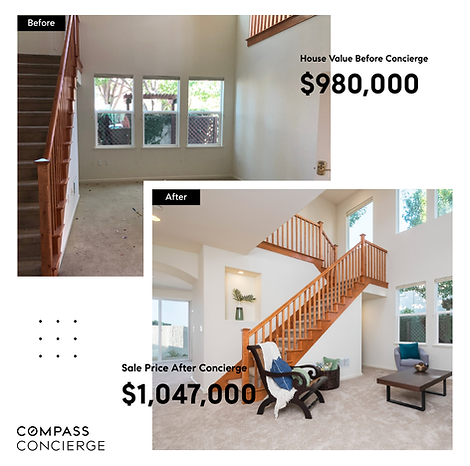 ---