SERVING MARIN COUNTY SINCE 2007
INDUSTRY-LEADING MARKETING
We engage our highly qualified team to create the assets that support the marketing of your property.

An architectural photographer will take pictures of the property, highlighting each room and key spaces. Images used for the marketing campaign are carefully selected and enhanced to reflect the style of the property.

A professional video will be taken of your property for use throughout the marketing campaign. These films include stunning aerials and music to create the ultimate luxury experience.
A mobile-friendly, personalized property website will be built for your home. It showcases all of the property photos, plus the video, features list, map and other elements of interest to a buyer.
A network of top real estate agents is ready to bring you your buyer.
COMPASS is the #1 INDEPENDENT REAL ESTATE BROKERAGE IN THE NATION.
$152B+
GROSS TRANSACTION VOLUME IN 2020
Gross transaction volume is the sum of all closing sale prices for homes transacted by agents on the Compass platform. We include the value of a single transaction twice when a Compass agent represents both the buyer and the seller. This metric excludes rental transactions. Agents are defined as all licensed agents on the Compass platform as of 9/30/21.
Everyone gets a first impression…
COMPASS gets billions.
$250M+
Annual website and social media impressions *
Digital Reach
Our digital footprint attracts potential buyers to your listing.
1.4M+
Annual unique international users on Compass.com **
International Reach
Our website drives international buyers to homes like yours curated through presentation and artificial intelligence.
105B+
Media Reach
Our in-house media team works with top publications to share compelling narratives about your home to potential buyers.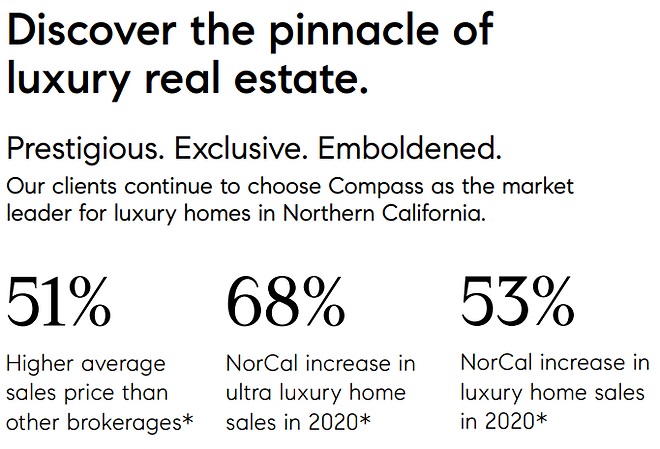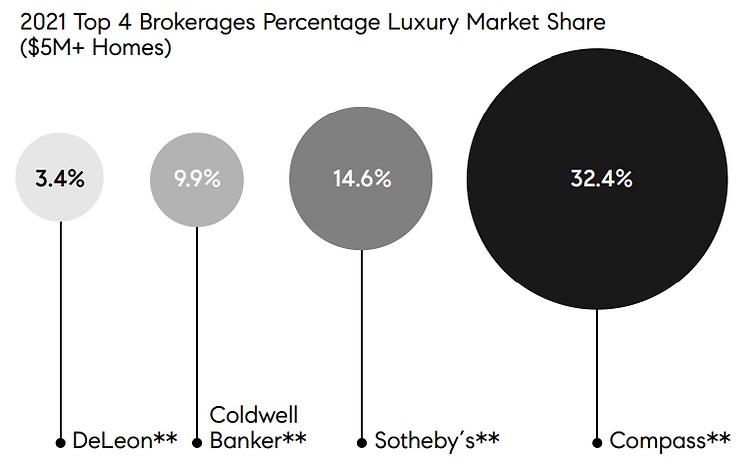 Reach more prospective buyers with intelligent digital advertising.
By leveraging COMPASS' digital advertising tools and partnerships across social media, we generate demand for your home faster, and we meet potential buyers where they are: online.
Proprietary Targeting
COMPASS helps generate buyer interest by using proprietary data to serve ads to Facebook and Instagram users.
Optimized Performance
COMPASS tracks and measures the results of every campaign, which allows for continued optimization.