It's fall 2023, and the Novato real estate market is weathering the challenging conditions brought on by climbing interest rates. Despite the challenges, there are significant bright spots in the Novato market.
Hear about it in this video from Erin McGinnis with Team McGinnis Realtors at Compass. Or, keep reading this post!
Interest Rates Climbing, But Still a Good Time for Home Sellers
Mortgage rates have reached a level not seen in more than 20 years.  The rising rates have slowed buying activity. But even so, there is positive news in the Novato real estate market. Homes are still selling quickly, and for full price, on average!
In the 3rd quarter of this year, July-September, the median home sale price was a little more than $1,149,000.  That's down 8% from the previous summer, in 2022. See the graph below.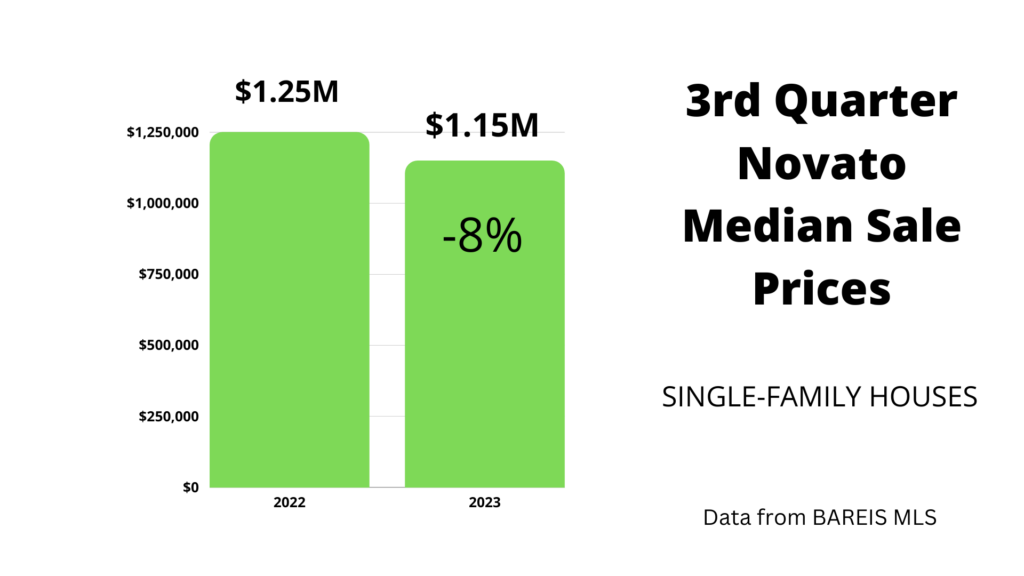 Not So Bad
If you take a wider view, and compare prcies over the past three years, you can see the market is still up almost 9% from the summer of 2020.
There have been extraordinary pressures on the market during that time, so to basically have an average of 3% growth each year, you could a lot worse, and we've seen much worse.
This Slowdown is Nothing Compared to Crash of 2008
The market crash of 2008-2011 is something we will never forget. And in fact it's because of our experience selling real estate in those years that we can successfully guide our clients through THESE challenging times. Experience really does matter, especially when the market falters.
Our Clients are Winning
In the 3rd quarter of this year, we closed 6 Novato home listings. All six closed for the asking price or more, and in an average of 24 days on the market, beating the market average of 32 days.
Two of the sales (43 Ferdinand Way in Bayside, Hamilton and 28 White Oak Way in Pointe Marin) set neighborhood records for price per square foot (Ferdinand) and price for the particular model (White Oak).
We detailed the transformation of another one of the sales here – 22 Greenham Ct. $$$
If you're thinking about buying or selling, please call or email us today. We would love to help you!