2023 is off to a promising start in Loma Verde real estate. Watch an update from Realtor Erin McGinnis, or continue reading below.
Loma Verde Novato Real Estate
We are several weeks into the new year and here's what's happened so far:
In January, there was one sale in the neighborhood, for $1,225,000. Two homes are under contract with buyers, and there are no active listings.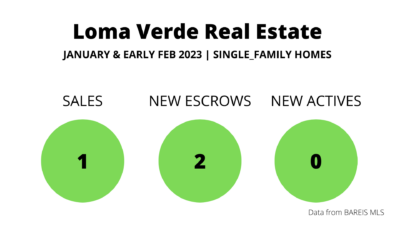 Coming Soon in Loma Verde
Kevin and I have one listing coming up soon in Loma Verde. It's a very special property because it has a main house and a detached ADU. Both are single-story. You can call us to learn more.
Good Time to Sell
If you're a home seller, it's a good time to come on the market because you have little to no competition, and we've seen a large increase in buyer activity throughout Novato since the start of the year. (Novato update here.)
As of this week, HALF of all houses on the market in Novato are in escrow. That's up from around 30% of all houses in September, October, November and December.
This means more buyers are making offers on houses, and that is very welcome news after the market slowed way down in the second half of last year, as interest rates climbed past 7 percent. Rates have come down since then.
Please check out our other Loma Verde and Novato updates on our YouTube channel @BestHomesMarin, and be sure to subscribe so you don't miss any updates.
If you're thinking of buying or selling this year, please contact us today so we can talk about your plans! Thanks for watching.