Loma Verde in southern Novato was one of the hottest neighborhoods in the city last year, both in terms of the number of sales, and prices.
Watch this video for an update on Loma Verde real estate, or continue reading below.
Loma Verde Bucks the Sales Trend
There were 15 home sales in Loma Verde 2022, and that's up 36% from the year before. That's especially notable because Novato as a whole experienced a sharp drop in sales. (See the Novato market update here).
Prices in Loma Verde were up. The median home sale price was $1,375,000, an increase of 20% from the year before.
Loma Verde Homes Sold Very Quickly
The average days on market in 2022 was only 11 days. That means most of the sales were cash with quick closes.
Rising Interest Rates
Strong buyer demand and record prices were only part of the story in 2022, however. A dramatic rise in mortgage interest rates cooled off the Novato market by summer and fall, and there were only 2 sales in Loma Verde in the final quarter of the year.
2023 Activity
Right now there is one active listing, and the neighborhood just had its first sale of 2023. A house on Calle De La Mesa just sold for $1,225,000, which was 97% of the asking price.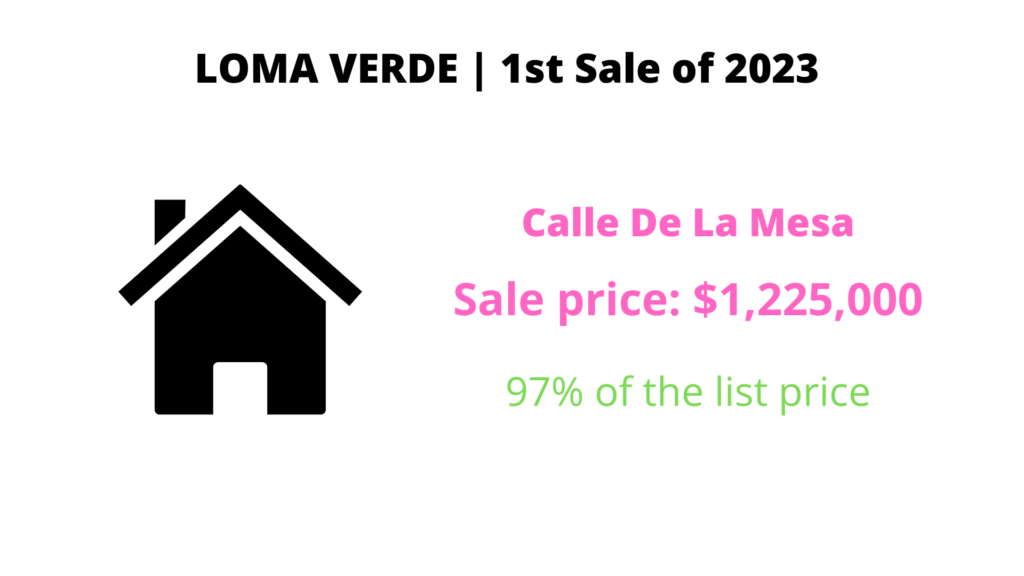 We feel good about 2023. Buyer activity has come back to life in the just the past 2 weeks, and we're seeing a lot more activity on our listings. Buyers are realizing that prices have come down since last spring, which helps offset the impact of higher interest rates.
If you have questions about Loma Verde or Novato real estate, please reach out!